---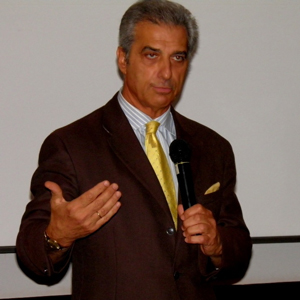 ---
Adriano Bassi was born in Milan. He is a piano concert artis, composer and conductor.
He wrote various books about music and history, including: "Storia del Cafè Chantan" (Preface by Paolo Limiti), "Caro Maestro", Unpublished Letters of D'Annunzio to musicians (Preface Giampaolo Rugarli), "La Musica e il Gesto" History of the orchestra and conductors (Preface by M ° Carlo Maria Giulini), "Erik Satie ,The Anti-Academic," "W Verdi" (Preface by the Mayor of Milan Gabriele Albertini), "Riccardo Zandonai" "Benjamin Britten", "History of the National Hymns", "Domenico Scarlatti", "The history of the piano", "Arturo Toscanini", "Mozart in Milan", "Curiosities in Mozart and his contemporaries", "The story of the kiss", "Le Heroines of the Risorgimento (the Risorgimento lived by women)"
In 1986 he published the 1st book interview with M ° Giorgio Gaslini (new book was repliced and updated in april 2016 making tribute to M° Gaslini after his missing)
For the theater he wrote "The desperate loves of L. van Beethoven" and "Life of Casanova"
He is a member of the Order of Journalists and has held the office of Probiviro in the Lombard Association of Journalists.
He writes for numerous magazines, including Nuova Antologia founded by Benedetto Croce.
He holds lectures on musicological, historical and philosophical subjects in important venues such as the Rubiconia Academy of the Filopatridi, the Lyceum of Catania, the Milan Press Club, the French Cultural Center, the Goethe Institute, the Garden Society.
He recorded numerous LPs and CDs including the Requiem by W. A. ​​Mozart (Ducale).
He conducts various orchestras including the Ludwig van Beethoven holding numerous concerts in Italy and abroad.
He collaborated with the Teatro alla Scala.
He is a Director of the Dante Alighieri Society of Milan.
He collaborates as a musicologist with RAI and with Vatican Radio. He collaborated with Paolo Limiti.
He is the Artistic Director of the "Pietro Mongini" Association
He takes care of the artistic direction of numerous musical seasons that take place in Italian and foreign locations.
He composed three Works on Life by Giuseppe Verdi (recorded on CD), Maria Callas (recorded on CD) and John Paul II (represented already in Milan and on September 3, 2005 in Introd, Val d'Aosta, the Pope's holiday resort) and in other cities.