---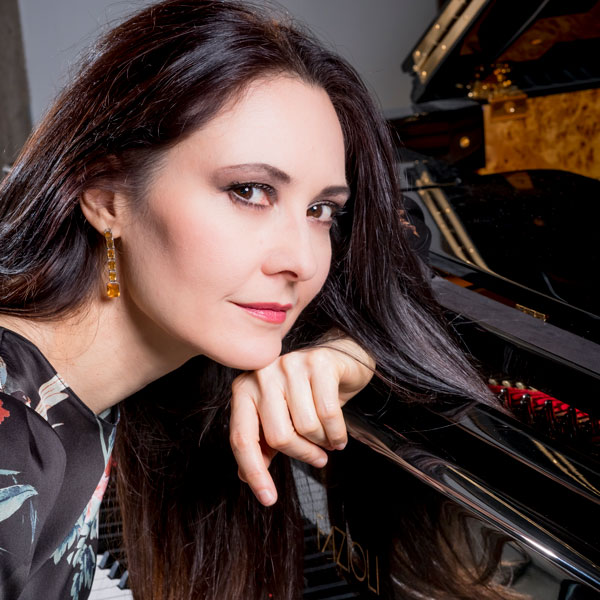 ---
Giuliana Soscia, pianist, jazz conductor, highly appreciated jazz composer / arranger in Italy and abroad, mentioned alongside the great names of international jazz, was born in Latina and graduated in 1988 in piano with full marks at the Conservatory of music S. Cecilia of Rome, perfected with S. Cafaro, A.M. Pernafelli, A.M. Martinelli. She wins numerous first prizes in piano competitions as a soloist and immediately embarks on a brilliant concert activity in the classical field. Soon her innate curiosity and vivacity led her to know and tackle other musical genres with brilliant careers, both as an instrumentalist and composer, from popular music, to electronic dance music, to jazz, she realizes countless record works, including a single with Universal Music. 
Parallel to the classical piano activity, she undertakes the study of the accordion and jazz composition and subsequently achieves the II Level Academic Diploma in Jazz Composition with full marks and honors, which will lead her to devote herself exclusively to jazz and to establish herself among the jazz players most recognized by critics in Italy and abroad. She was awarded the "Sonerfisa" 2001 trophy and the 2007 Lifetime Achievement Award in the International City of Castelfidardo Award, the prestigious "XXXV European Personality Award" at the Campidoglio in Rome, as the best critics award Orpheo Award 2018 as best album, among the best Italian accordionists in the Jazzit Awards from 2011 to today. From 1 September 2017 she decides to stop her activity as an accordionist to continue exclusively as a pianist, composer and conductor.
She performs in the most important jazz festivals and theaters in the world, including national televisions and radios, with his projects and as a soloist in important jazz orchestras, with an intense concert activity and acclaim from the public and critics: including: Teatro San Carlo di Naples, Hanoi Opera House, Ankara Opera House, Edinburgh Qeen's Hall, Glasgow RSAMD, Stirling Mac Robert Art Center, St. Andrews Byre Theater, Sesc Campinas and Sesc Ipiranga Saõ Paulo, Pirandello Theater of Lima, ICPNA Lima Jazz Festival, Auditorium Parco della Musica in Rome, Menotti Theater in Spoleto 65 ° Coupe Mondial Accordeon, Roccella Jazz Festival, Casa del Jazz in Rome, Verdi Theater in Trieste, Dean Benedetti Jazz Festival with the Pucciniano Festival Foundation, IIC of Addis Abeba, Marseille for Suona Italiano in France 2011 and 2013, IIC of Marseille, EJE European Jazz Festival of Cagliari, Lucca Jazz Donna 2010, Women in Jazz 2014 for the Foundation Donne in Musica, International Acc ordion Festival of Castelfidardo and many others.
Engaged with the "Giuliana Soscia Trio" in the dissemination of jazz composition for women and above all the role of women in jazz, she performs at the Women in Jazz 2014 review for the Adkins Chiti foundation, in the Midjane review at the Casa del Jazz in Rome and the International Women's House, on a prestigious Tour in India for Women's Day 2016 in the most important theaters in India, NCPA Mumbai Experimental Theater, GD Birla Sabhaggar Kolkata, Civil Services Officer's Institute New Delhi, with enthusiastic acclaim from the public and articles on The Messenger and Indian national TV. Subsequently she founded the "Giuliana Soscia Indo Jazz Project" as a composer / arranger pianist directs an ensemble of Italian and Indian musicians, with whom she opened the Celebrations of the 70 years of Diplomatic Relations between Italy and India, with three highly acclaimed concerts in February 2018, at "The India Council for Cultural Relations" in Kolkata, "India Habitat Center, Stein Auditorium" in New Delhi and as part of the Festival "16th East West Music & Dance Encounters from Feb 4 – 18, 2018" in Bangalore, tour promoted by the Embassy of Italy in India, by the Consulate General of Italy in Mumbai and Calcutta, by the Italian Cultural Institutes of New Delhi and Mumbai. In Italy on March 19, 2018 at the Auditorium Parco della Musica for the Celebrations of the 70 Years of Diplomatic Relations between India and Italy, promoted by the Embassy of the Republic of India in Rome and ISMEO – International Association of Mediterranean Studies and the East, with a standing ovation and a great consensus from the public. On 7 July 2018 at the Caetani Castle in Sermoneta as part of the 54th Pontine Music Festival with the patronage of the Embassy of the Republic of India in Rome.
She conducts the Parthenopean Jazz Orchestra of Pino Jodice and Giuliana Soscia and founded the "Giuliana Soscia & Pino Jodice Quartet" in 2007, making concerts all over the world and ten record works, receiving excellent reviews from both critics and com and soloist who as composer / arranger: "Latitango", "Antiche Pietre", "The Tango from Naples to Buenos Aires", "Contemporary" and "Sindbad's Journey", "Sonata for crescent moon", "Stabat Mater in jazz "," Lucca Jazz Donna Vol. 1 "," North Wind "feat. Tommy Smith and "Megaride" with the Parthenopea Jazz Orchestra of Pino Jodice and Giuliana Soscia fest. Paolo Fresu, who obtained the seal of excellence from the Pino Daniele non-profit organization. He has also collaborated with Maestro Roberto De Simone, Luis Bakalov, Roberto Fabbriciani, Mario Marzi, Tommy Smith, Paolo Fresu, Raed Khoshaba, Maurizio Giammarco, Giancarlo Schiaffini, Enzo Favata, Sainkho Namtchylak, Javier Girotto, Quyen Thien Dac, etc.
She has always carried out teaching activities, master classes in jazz composition and accordion in conservatories in Italy and abroad. He has also carried out a very important dissemination activity as a musician and television presenter of columns relating to music in the programs "UnoMattina" on RAI UNO and RAI DUE from 2000 to 2008. 
She also plays classical piano as a soloist and in different chamber ensembles, currently in duo with Roberto Fabbriciani and Mario Marzi.