---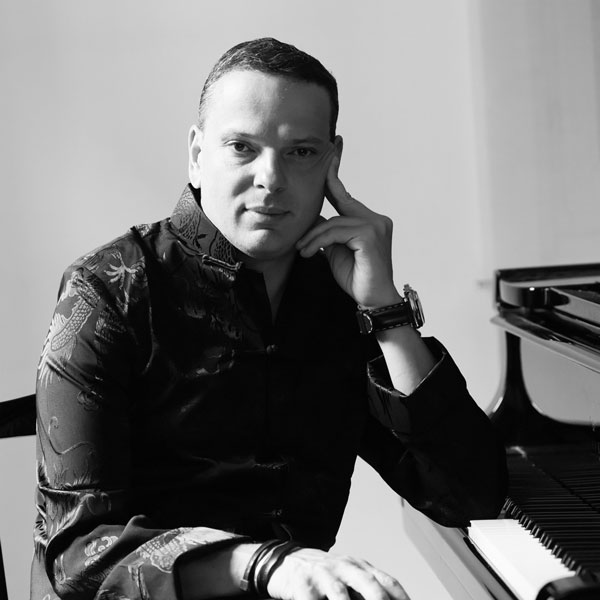 ---
Marcello Mazzoni was born in Reggio Emilia and started his piano studies in the local musical institute "Achille Peri". He graduated at the Monteverdi's Conservatory in Bolzano and continued his intensive studies at the Imola Academy with renowned professors and concertists such as F. Scala, L. Berman, A. Lonquich, R. Risaliti, L. Lortie, J. Achucarro and P. Rattalino. He also attended the Masterclasses of some of the most famous musicians of our time (S. Richter, M. Pollini, A. Schiff ecc.). Mazzoni studied composition with Armando Gentilucci and attended the faculty of Musicology in Parma University.
Mazzoni has given concerts as a soloist with orchestras in concert halls and festivals such as: Musikverein in Vienna, Conservatory Hall Saint Petersbourg, Mozarteum Orchester Saal in Salzburg, Philarmonia Hall in Perm (Russia), Gasteig Philharomnie in Munich, Grands Salons Hotel de Ville Nancy (France), Philarmonia Brasov, Hong Kong Cultural Centre, Theatre der Jugend in Munich, Ehrbar Saal in Vienna, Bartok Saal in Budapest, Bartok Hall Szombathely, Cultural Centre in Kaspovar, Filarmonica in Brasov, Singapore Music Hall, Hong Kong City Hall, Teatro Filarmonico  in Verona, Forum Bertarelli (Amiata Piano Festival), Teatro Massimo in Palermo, Aula Magna Sapienza University in Roma (IUC), Auditorium Paganini in Parma, Teatro Valli in Reggio Emilia, Greppi Hall in Bergamo, Auditorium San Domenico in Foligno, Nuova Fenice in Osimo, Sala Mariele – Imola Academy, Teatro Manzoni in Pistoia, Teatro Comunale Foggia, Teatro Comunale in Belluno, Toledo Gallery in Naples, Teatro Comunale Imola, Pala Cultura Messina, Casa Della Musica in Parma, Teatro Comunale Modena, Accademia Nazionale di Musica in Pistoia etc.
He has given recitals and concerts in Italy and abroad, playing with soloists such as Ilya Grubert, Uto Ughi, Sonja Korkeala, Clemens Weigel, Eliot Lawson, Anton Niculescu, Bin Huang, Francesco Manara, Andrea Griminelli, and others. He frequently plays as a soloist with renowned ensembles including Berliner Philharmoniker Soloists, Camerata Royal Concergebow Orchestra, Wiener Symphoniker, Savaria National Hungarian Orchestra, Brasov National Filarmonic Orchestra, Salzburg Orchester Solisten, I Virtuosi Italiani, I Solisti Filarmonici Italiani, Orchestra Filarmonica Marchigiana  etc.. Between 2017 and 2018, in collaboration with Limen Music, Mazzoni has recorded four CD-DVDs: the first dedicated to Liszt, the second to the three sonatas for piano and violin by J. Brahms with Silvia Mazzon, the third with the complete chamber production for piano and strings by J. Brahms with Ilya Grubert, Anton Niculescu, Giulia Brinckmeier and Silvia Mazzon and the last one Mozart piano quartets with the Camerata RCO Royal Concertgebow Orchestra. In May 2019 he made his debut with the prestigious label Decca with the complete Bach Concertos for Keyboard and Strings. In 2013 he was named permanent member of the Steinway Artists, together with notable musicians such as Vladimir Horowitz, Martha Argerich and Maurizio Pollini.
Marcello Mazzoni is a piano teacher at the "A. Peri" Conservatory in Reggio Emilia, member of C.D.I. of Valli Teatre (Reggio Emilia), artistic director of "Incontro alla musica" season in the Cavallerizza Theatre in Reggio Emilia and the founder of the successful "Festival dei pianisti Italiani" in the same city.