---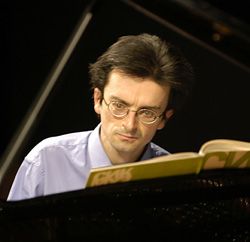 ---
Born in 1977, Andrea Bacchetti has been collected suggestions by musicians as Karajan, Magaloff, Berio, Horszoski since he was a child. At 11 years old he debuted with I Solisti Veneti, conducted by Claudio Scimone. From then on, he played more times in international festivals all over the world as Lucerne, Salisbury, Belgrade, Santander, Toulouse (Piano aux Jacobins), Lugano, Sapporo, Brescia and Bergamo, Bologna, Roma (Uto Ughi per Roma), La Roque d'Anthéron, Milano (MI.TO), La Coruña (Festival Mozart), Pesaro, Cervo, Bellinzona, Ravenna, Ravello, Santiago de Compostela (cycle of A. Brage), Warsaw (Beethoven Festival), Paris (La Serre d'Auteil), Bad Wörishofen, Spoleto, Husum, Murten Classics.
Also, he performed in prestigious halls: Konzerthaus (Berlin); Salle Pleyel, Salle Gaveu cycle Piano Quatre Étoiles (Paris); Dvorak Hall (Prague); Teatro Coliseo (Buenos Aires); Rachmaninoff Saal, to The State Philharmonic Society (Moscow), IBK Concert Hall Arts Center (Seoul); Auditorium Nacional de España (cycle of Scherzo and CNDM), Teatro Real, Teatro Monumental, Fundacion March (Madrid); Fundação Calouste Gulbenkian (Lisboa); Hamarikyu Asahi Hall, Toppan Hall and Musashino Concert Hall (Tokyo), De Warande (Antwerp); Huelecourt Art Project, (Bruxelles); Mozarteum Brasileiro e Cultura Artistica (São Paulo); Parco della Musica (Roma); Zentrum Paul Klee (Bern); Gewandhaus (Leipzig).
In Italy he has been guest of the most important concert associations, and all main orchestra. Abroad, Andrea played with several orchestras (Lucerne Festival Strings, Camerata Salzburg and Salzburg Chamber Soloists, RTVE Madrid, Sinfonica de Asturia, Oviedo, OSCYL, Valladolid; MDR Leipzig, Kyoto Symphony Orchestra, Sinfónica de Tenerife, Filarmonica della Scala (Milano), OSNR Torino, Sinfónica dell'Estado de Mexico, RTL Lubiana, Cappella Istropolitana, Bratislava, Russian Chamber Philharmonic St. Petersburg, Dubrovnik Symphony Orchestra, Philharmonique de Nice, Prague Chamber Orchestra, ORF Wien, MAV Budapest, Maggio Musicale Fiorentino, Arena Verona, Carlo Felice of Genua, Toscanini Philarmonic of Parma, Philarmonie der Nationen (Hamburg), Enesco Philharmonic (Bucharest).
He played with many conductors as Bellugi, Guidarini, Venzago, Luisi, Zedda, Manacorda, Panni, Burybayev, Pehlivanian, Gullberg Jensen, Nanut, Lü Jia, Justus Frantz, Baumgartner, Valdes, Renes, Bender, Bisanti, Ceccato, Min Chung, (just to nominate a few names).
He records exclusively for Sony Classical; in his wide discography, we have to remember the SACD with the "6 Sonatas" by Cherubini (Penguin Guide UK, Rosette 2010), "The Scarlatti Restored Manuscript" (RCA Red Seal) that received an ICMA award in the Baroque Instrumental CD category in 2014. In his Bach production, most remarkable records are the "Two-Part Inventions & Sinfonias" (CD of the month for BBC Music Magazine – September 2009) and "The Italian Bach" (CD of the month for Record Geijutsu – May 2014), and The Keyboard Concertos (CD of the mounth for RITMO – March 2016).
He indulges in chamber music with passion. His collaborations – with partner as Rocco Filippini, Prazak Quartet, Uto Ughi, Maxence Larrieu, Quatuor Ysaye – were fruitful. Composers as Vacchi, Boccadoro, Del Corno, among others, dedicated to him some pieces of theirs. Last season, he played in Spain, Mexico, Cuba, Korea, Switzerland, Poland, Belgium, Russia; in the current season, we expect tours in Japan, Luxembourg, Spain, France and Germany.