---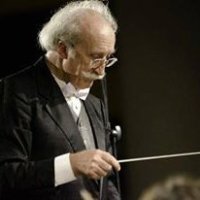 ---
Nicola Samale was born in Castelnuovo d'Istria and began his musical studies at the "S. Cecilia " in Rome, graduating in flute, composition, instrumentation for band and orchestra conducting.
He began his conducting career with the victory at the AIDEM Competition in Florence in 1968, the second prize at the "G. Cantelli "in Milan in 1969 and the first overall prize in the context of the "Giovani Direttori Italiani" of RAI in 1970.
He directed all the major Italian orchestras. Abroad he has been active mainly in England, Germany, France, Romania, Poland, Slovenia, Israel, United States of America, South Africa, Belgium, Holland and Korea.
As a composer, Nicola Samale has distinguished himself in a very particular field, the reconstruction of great unfinished masterpieces of the symphonic repertoire.
He has numerous chamber, symphonic and symphonic-choral compositions, as well as four opera works, including The heroic Yi Sunsin. Already principal conductor of the Abruzzo symphonic institution, artistic and stable director of the symphonic institution of Lecce, artistic director and stable director of the Philharmonic Orchestra of Matera.
Professor of orchestra conducting at the Conservatories of Sassari and L'Aquila until 1993, Nicola Samale teaches as a free lecturer in composition, orchestral technique and orchestra conducting.