---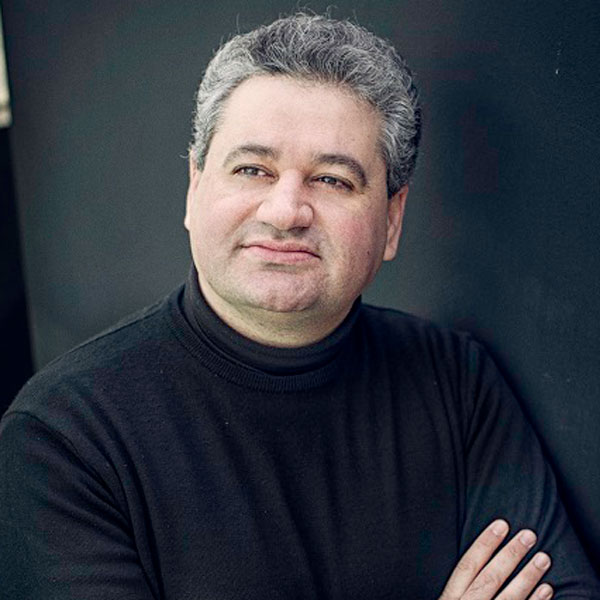 ---
Virginio Zoccatelli (born 1969) is an Italian composer, conductor, and teacher.
He studied  at Verona Conservatory and Bologna University.  He graduated in Piano, Instrumentation for Band, and Composition, also earning a Bachelors in Literature and Philosophy from the University DAMS of Bologna with a thesis on G. Petrassi.
He was included in the "Enciclopedia italiana dei Compositori Contemporanei" (Pagano Editore- 1999) at the age of 30.
Zoccatelli is an eclectic composer as such, making it difficult to pigeonhole him. Thanks to his multifaceted cultural and musical background, he is known for having developed his style being a composer who aims to know the world and the deep human interiority through various artistic languages. He is a composer influenced by a range of creative artforms, including poetry, theater, philosophy, film, and dance.
Some of his early works are inspired by the academic Italian style of classical matrix, based on clear melodies and virtuous writing accompanied by instrumental lightness.  His most recent works begin with postmodern and deconstructivist personal positions and reach an unprecedented linguistic form that places at the center of the poetic work the articulation of fragments of melodies inserted in a wider context of harmonic blocks and contrapuntal techniques. In this writing process, time also takes on a particular psychological dimension, far from classical symmetries. The listener is at the center of these sound events.
His recent projects investigates a synthesis of writing between ancient rhetorical language and digital thought.
His catalog currently features more than 800 works, including scores for orchestra, wind orchestra, choir, solo singers, chamber works, soloists as well as scores for theater and soundtracks that have won several national and international composition prizes. Among them, "La Maschera" (1992-2013), "Il violino magico" (2009), "Ecomusical" (2008, Premio Abbiati per la Scuola), "Le storie di Woodland" (2010), "Empedocle" (2015) and "Vivantigone" (2016, Premio Abbiati per la Scuola), Foibe- Un passo dal nulla (2020), are worth mentioning. He also composed the ballet "Romeo and Juliet … Love continues" (2012-2013) and "Indaco" (2014-15), staged since 2012 in various Italian theaters, a RBRDanceCompany production.
He is the founder of the Ensemble Accademia Secolo XXI (2001), where he conducted public concerts and concert seasons in addition to playing the piano in numerous album productions. As conductor he has performed music by Vivaldi, Salieri, Mozart, Rossini, Verdi, J. Strauss, Puccini, Cilea, Mascagni, Gounod, Malipiero, Montico, Gerswin, Dallapiccola, Petrassi, Bernstein, Berio, Gubaidulina, Part. He has often directed his music in different seasons and academic contexts.
In 2016 he published the monographic album "Mediterraneo" produced by MEP (Roma); in 2019 Almendra Music published the album "An Italian embroiderer." He has also published many scores and tracks for RAI–the Italian national television and broadcasting company–that have been frequently broadcasted, among them are: the CDs "Open dialogues" (2010), "Orchestral movements" (2011), "Jeux et Paysages" (2012), "Landscapes" (2013) and "Dai Balcani al Mediterraneo" (2016).
Furthermore, he has collaborated in several productions with many renowned international artists, among them are the actors G. Lazzarini, P. Pitagora, U. Pagliai, and the movie directors P. Valerio, A. Giarola, F. Viviani, S. Alù and T. Turolo for film's soundtracks "Diec".
His works have been featured in relevant festivals and musical institutions and some of the most significant performers of his music include musicians such as  V. Parisi, C. Ambrosini, A. Canonici, A. Mannucci, M. Somadossi, M. Testa, W. Themel, M. Attura, C. Fedrigo, Ex Novo ensemble, Accademia Secolo XXI, MAV Budapest Orchestra, Ned Ensemble, Orchestra giovanile del Teatro Politeama di Palermo, Ensemble del laboratorio di Musica Contemporanea del Conservatorio di Udine, Ensemble Time Machine, Ensemble Musica Attuale, Solisti Veneti, L. Degani, G. Vianello, A. Carcano, A. Maruri, E. Calcagni, F. Scomparin, G. Brunelli, F. Donadoni, D. Teodoro, C. Teodoro, E. Roselli, S. Piciri, N. Bulfone, L. Trabucco, S. Ballarin, M. Marcassa, C. Sebastianutto, Ensemble vocale- strumentale Zh2Vox, Triskeles Saxophone Quartet, E. Toscano, Trio Lemniscate.
From November 2017 to October 2020 he was the Rector of the Conservatorio "Jacopo Tomadini" in Udine, where he was the former professor of 'Elementi di Composizione per Didattica'.
Virginio Zoccatelli at present is the professor of "Elementi di Composizione per Didattica," which aims to develop harmony, counterpoint and composition at the Conservatory of Trieste.