---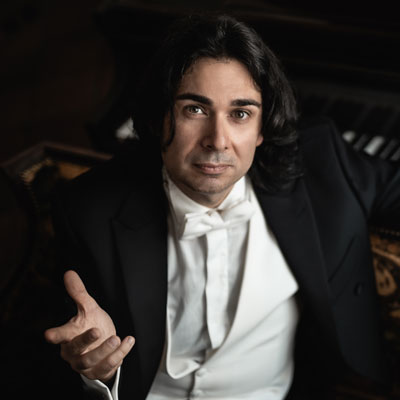 ---
Antonio Trovato was born in 1970, belonging to a family of musicians, he began studying piano at the age of eight after hearing on the radio the Transcendental Étude No. 2 by Franz Liszt, deciding to dedicate his life entirely to the study of the piano.
He graduated with honors from the Vincenzo Bellini Conservatory in Palermo, voraciously exploring as much repertoire as possible, from the compositions of the great ancient masters, to contemporary music; subsequently he perfected his skills with M° Piero Rattalino and M° Boris Petrushansky.
He does research to highlight and perform minor authors such as C. Tausig, L. Godovskij, P. Pabst, N. Roslavets and to promote their compositions as much as possible.
He studied composition with Eliodoro Sollima, one of the most representative names of the twentieth century, who transcribed an orchestral composition by Trovato for piano solo, adding a personal dedication.
His compositional style is late romantic, the dissonances and the typical characteristics of contemporary language become sweet and passionate consonances, characterized by great incisiveness and vigor, full of colors and virtuosity, alternating with descriptive moments. In his own words, Trovato explains his leitmotiv: "My art expresses my soul and my soul expresses God".