---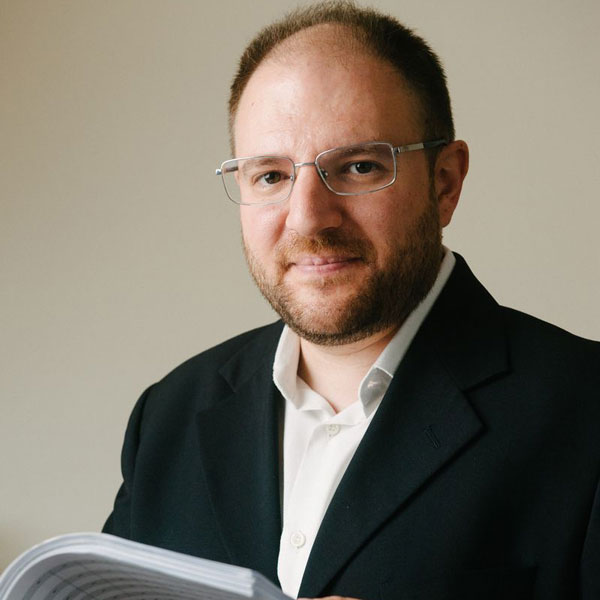 ---
Andrea Montepaone, italian composer and conductor, was born and lives in Rome (birth date: November, 21st 1978). He early showed a natural inclination towards music. At the age of twelve he began studying piano and harmony under the teaching of Maestro Marco Albrizio, who showed him the rudiments of classical music. A few time later he also developed a remarkable passion for cinema that led him, while studying music, to deepen his knoledge of that discipline: he in fact took part amongst the judges in the "David Scuola" of the Ente David di Donatello Award and was honored with the first prize in 1998 for the best cinematographic analysis by the "Associazione Generale Italiana dello Spettacolo" (General Italian Association of Entertainment – AGIS).
After graduating in DAMS (Disciplines of Art, Music and Performance) in 2002 at the University of "Roma Tre", he subsequently obtained a PhD in film orchestration, and finally found his way specializing in Film-scoring, a kind of discipline that allowed him to combine both his interests. His meeting in 1999 with Maestro Stelvio Cipriani, famous and appreciated composer, contributed to strengthen his devotion to that art. Under the guide of this wonderful artist, Andrea Montepaone improved his piano technique and mastered in composition, acquiring versatility and solid preparation. Thanks also to the friendship with Maestro Gian Piero Reverberi, composer and conductor of the Rondo Veneziano group, he also perfected himself in the technique of orchestration. This led him to the choice of spreading film music in order to raise awareness and appreciation of a genre that was unusual for live performances at the time. This is why the project "Note di cinema" was born. It consisted of concerts in which the most popular soundtracks he arranged were played. The shows have been attended by many people in different places and occasions, such as "Estate Romana", the Military Officers Club in Piacenza, Palazzo Barberini in Rome and some prestigious cruise ships from MSC and Costa, with positive responses from the audience.
In those years Maestro Montepaone began his work as a composer and arranger, taking care of various genres of music also very different from each other, especially privileging the use of traditional instruments and orchestra: he composed for movies, television, theater, chamber and symphonic and sacred music. Concerning movie scores he worked on several soundtracks, including "Il pesce pettine" by Maria Pia Cerulo with Stefania Sandrelli. Some of his original compositions and arrangements have been included in films and fictions receiving an excellent response from the audience, such as "Pius XII – Under the Roman Sky" by Christian Duguay (2010), "Eroi per caso" by Alberto Sironi (2011), four seasons of "Don Matteo" (2006 – 2011). Subsequently, his compositional activity has been particularly oriented towards the television world: in particular, the albums "De rerum natura" (2008), "Il vento delle stelle" (2011) and "Classico popolare" (2012) have met the favor of journalists and are often used for journalistic services, title sequences or commercials and programs of Italian televisions Rai and Mediaset. This possibility is offered by the vast repertoire of the composer which covers the most varied situations to be commented on: from historical events to current news, from naturalistic to extreme suspense atmospheres it is always possible to find highly evocative works that are well suited to images. Precisely this original, melodic style and the orchestrations has allowed Andrea Montepaone to consolidate in a few years a reputation as a versatile and prolific author.
In 2015 he began his collaboration with Pauline Publishing House (Daughters of St. Paul) with the album "Sinfonia Gregoriana": the original operation in which the ancient chant is accompanied with the expressive charge of the orchestra has been a great success and has given way to a series of arrangements for the recovery and enhancement of various repertoires of sacred music, such as the "Classici mariani" series (2017 – 2021), obtaining considerable interest from the public also abroad.
Interesting in Christmas songs, he has worked on six albums of this genre, starting in 2011 with "My Christmas Joy", made of original atmosphere music and followed a year later by "A Present for Christmas", a collection of very famous songs arranged in a modern way. The same records will then be used without the rhythm for the album "Angels Sing Christmas Carols" (2016) interpreted by a boys' choir. These works were followed by the three-volume series for soloists, choir and big orchestra "Classici di Natale" (2015 – 2018) elaborated keeping the texts in the original languages and the complete number of strophes. In order to realize these versions, he has carried out careful research in the places where some of the best known songs were born, both in Italy and abroad.
Andrea Montepaone is also the founder and artistic director of the Supernova Symphony Orchestra, born in 2010 by selecting musicians from important Italian orchestras. As well as participating in several concerts, the orchestra works mostly in recording studio and has also been chosen to record works by other authors such as the last soundtrack of Manuel De Sica, composed for Pasquale Squitieri's "L'altro Adamo" (2014). Since 2015 the orchestra the orchestra has recorded the works for Pauline Publishing House by Marco Frisina, author with whom a good collaboration has been established.
Last but not least, Andrea Montepaone's collaborations in pop music: in 2008 he arranged and conducted the song "Il rubacuori" for the band "Tiromancino" at the 58th Sanremo Music Festival; in 2011 he collaborated with Tony Renis and with the trio Il Volo on their debut album; in 2014 he collaborated with Dolcenera, at the Coca-Cola Summer Festival in Rome.
In 2017 Andrea Montepaone won the Respighi Prize of the Chamber Orchestra of New York in the composers category with the work "The Holy Family". The award was presented on June 6, 2019 with a concert at Carnegie Hall.
To date, Andrea Montepaone has published 42 albums (24 of production music for cinema and TV, 16 of arrangements, 1 of sacred music, 1 of concert music).