We are glad to announce the release of Viral Compilation (Classical) on May 8th!
That is a group of compilations created by BAM International in order to be able to unite in the field of music within activities carried out in the world because of Covid-19, united we too on two fronts.
The first front is addressed to the public. Within this compilation we can listen the most beautiful works of the best known composers, starting from lyric music from Rossini to Tosti, for piano by Rachmaninov or Prokofiev, for violin from Vivaldi to Mozart, for guitar by Albenìz or Ravel, for contemporary music by Biber and Bombardelli, from repertoire for Bands and symphonic orchestras from Verdi to Perosi, interpreted by the artists of the BAM roster for example, Ivanna Speranza, Giuseppe Andaloro, Anca Vasile Caraman, Musso & Tomasi, Marco Rizzi, the Italian Philharmonic Orchestra, the Conductor Antonella Bona and many more.
Our second goal is to assign the profits derived from the commercial exploitation of the Viral Compilational to the Civil Protection of the Italian State.
Viral Compilation (Classical) will be out next 8th May on all digital stores, pre-save it directly from here https://backl.ink/142419432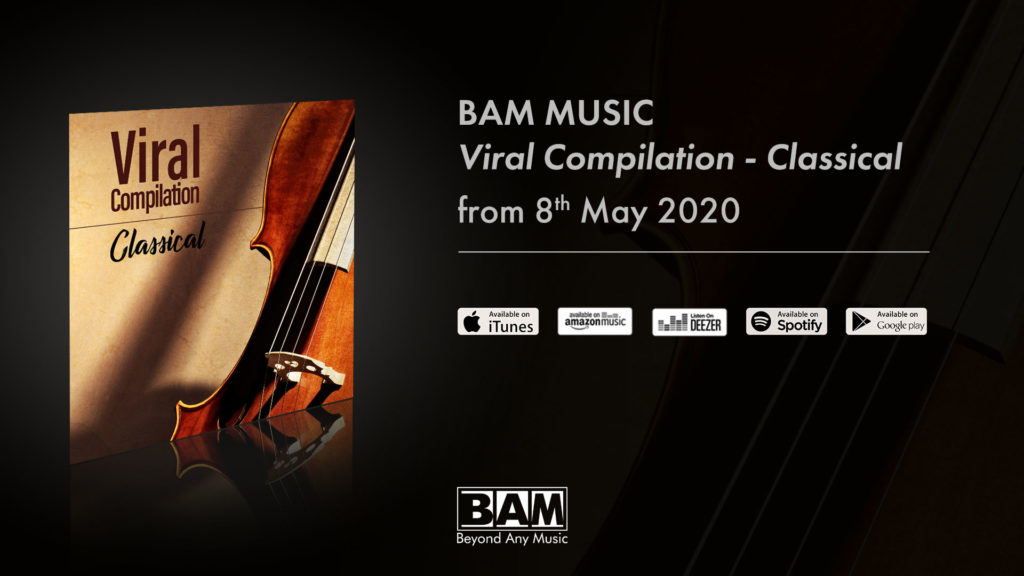 Viral Compilation (Classical) è una serie di compilation che BAM International ha realizzato per potersi unire nell'ambito della musica all'interno di attività svolte nel mondo a causa del Covid-19, uniti anche noi su due fronti.
Il primo fronte è rivolto al pubblico. All'interno di questa compilation possiamo ascoltare le più belle opere dei compositori più noti, partendo dalla musica lirica da Rossini a Tosti, per pianoforte da Rachmaninov a Prokofiev, per violino da Vivaldi a Mozart, per chitarra da Albenìz a Ravel, per la musica contemporanea da Biber a Bombardelli, da repertorio per Bande e orchestre sinfoniche da Verdi a Perosi, interpretate dagli Artisti del roster di BAM come ad esempio, Ivanna Speranza, Giuseppe Andaloro, Anca Vasile Caraman, Musso & Tomasi, Marco Rizzi e l' Orchestra Filarmonica Italiana, il Direttore d'orchestra Antonella Bona e molti altri.
Il nostro secondo obiettivo è quello di assegnare i profitti derivati dallo sfruttamento commerciale di Viral Compilation alla protezione civile dello Stato Italiano.
Viral Compilation (Classical), in uscita su tutti i digital stores 08-05-2020, pre-salvatela direttamente da questo link: https://backl.ink/142419432