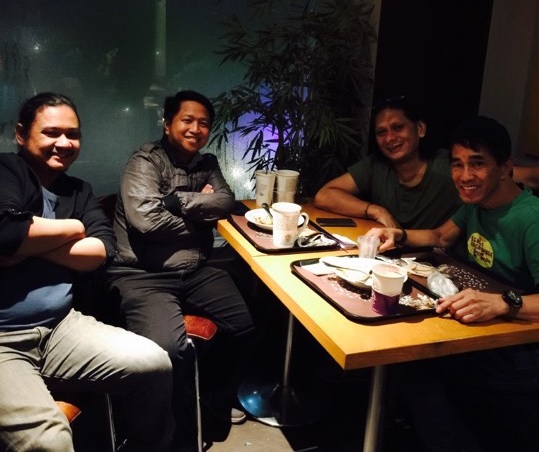 The 2018 edition of GenFest, that will be held in Manila (Philippines) on next July, is working progress. Marcelino "Marcy" Bautista has been working on the plan for several weeks. As artistic director Marcy, accompanied by his assistant Greg Rodriguez, met the Technical Director Raymond Tolentino and the Musical Director Elfio Delos Angeles to prepare the Genfest Band (Philippine cast) and organize their official tests with the various instruments.
The meeting is completing a very busy month of October. Even though the event is scheduled in 8 months, the goal is to ensure a perfect organization testing it several times. The GenFest, which will take place under strict security measures, will be a great opportunity to reiterate the desire of young people to join them all together despite the climate of fear of last years, a further goal that perfectly fits with the multicultural footprint that Chiara Lubich gave to GenFest in the 70s to spread the message of brotherhood among the peoples.
Proseguono i preparativi per l'edizione 2018 del GenFest che avrà luogo a Manila (Filippine) nel prossimo mese di luglio. Marcelino "Marcy" Bautista sta lavorando sul piano organizzativo ormai da diverse settimane. Nella sua veste di direttore artistico Marcy, accompagnato da Greg Rodriguez, ha incontrato il Technical Director, Raymond Tolentino, e il Musical Director, Elfio Delos Angeles, per preparare la formazione del Genfest Band (Philippine cast) ed organizzarne le prove ufficiali con i vari strumenti.
L'incontro va a completare un mese di ottobre di lavoro molto intenso. Anche se mancano più di 8 mesi all'evento, l'obiettivo è quello di garantire una perfetta organizzazione e di testarla più volte. Il GenFest, che si svolgerà tra strettissime misure di sicurezza, sarà anche l'occasione per ribadire la voglia dei giovani di stare insieme nonostante il clima di paura di questi ultimi anni, un obiettivo ulteriore che ricalca in modo perfetto l'impronta multiculturale che Chiara Lubich volle dare già negli anni '70 per diffondere il messaggio di fratellanza tra i popoli.