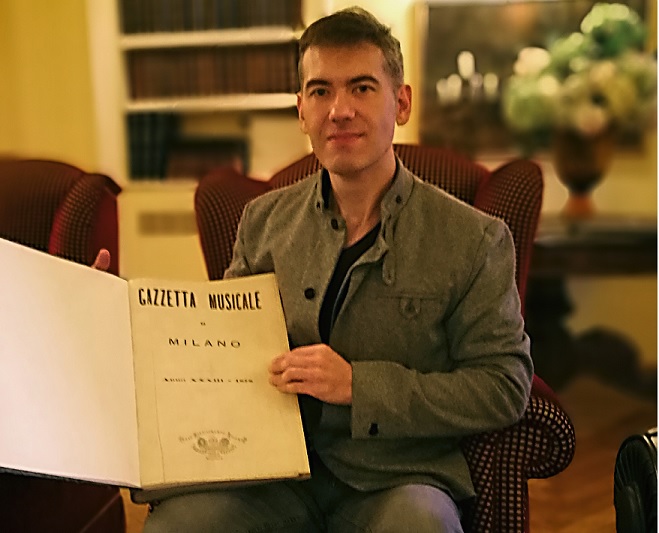 It will be held on Sunday 22nd October at Villa Isacchi in Cislago (Varese) the concert "L'arte raccontata dagli artisti", organized by Associazione Culturale "Ricercare", a dialogue with emerging and most important contemporary artists. Among the guests also the composer Roberto Brambilla (picture on the right) who will show his work for four-handed piano and electronic writing specifically for a picture of the painter Emanuele Gregolin. Among the guests also the famous composers Paolo Castaldi, Giorgio Colombo Taccani, Carlo Galante and Lodi Luka.
The event, scheduled at 3.00 pm, has been organized in the context of the 20th edition of "Festival Microludi". You will be able to visit the gallery of Gregolin, which will also show the picture to which Brambilla has inspired to compose the track. "The imaginary question is: 'What sound has a picture?'" the composer explains. "I was inspired by the indications that the picture gave me; the song includes a piano with four hands, that is played by two performers (Antonella Moretti and Mauro Ravelli, editor's note), the electronic music that will modify the elaboration of the sounds of the piano performance and the picture by Emanuele Gregolin too. It will be a surprise to hear what a picture has to say and to answer", Brambilla said.
Brambilla has studied in Milano and he has collaborated with several label companies, including Warner/Chappell, TEM and BAM. The peculiarity of his art is to use electronic means to change the tone of classical instruments (Read More about Brambilla.
Si terrà domenica 22 ottobre a Cislago, presso Villa Isacchi, il concerto "L'arte raccontata dagli artisti", organizzato dall'Associazione Culturale Ricercare, un dialogo con gli artisti contemporanei emergenti e più importanti. Tra gli ospiti anche il compositore Roberto Brambilla che interverrà per presentare il suo lavoro per pianoforte a quattro mani ed elettronica scritto espressamente per un quadro del pittore Emanuele Gregolin, anch'egli ospite della giornata. Tra gli ospiti anche i noti compositori Paolo Castaldi, Giorgio Colombo Taccani, Carlo Galante, e Lodi Luka.
L'evento, previsto alle ore 15, è stato organizzato nell'ambito della 20a edizione del Festival Microludi. Sarà possibile visitare la galleria di Gregolin che esporrà anche il quadro al quale Brambilla si è ispirato. "La domanda immaginaria è 'Che suono ha un quadro?'" – spiega il compositore – Ho preso spunto dalle indicazioni che mi ha fornito il quadro stesso; da qui è nato un brano che contempla nel proprio organico un pianoforte a quattro mani, cioè suonato da due esecutori (Antonella Moretti e Mauro Ravelli ndr), la musica elettronica che interverrà sia attraverso l'elaborazione dei suoni dell'esecuzione al pianoforte sia come tape preregistrati e lo stesso quadro di Emanuele Gregolin, che avrà il ruolo di rispondere agli interventi dei pianisti. Sarà una vera sorpresa ascoltare ciò che ha da dire un quadro".
Brambilla, formatosi a Milano, ha collaborato con diverse case editrici e discografiche, tra le quali Warner/Chappell, TEM e BAM. La peculiarità della sua arte è l'utilizzare mezzi elettronici per modificare il timbro degli strumenti classici.