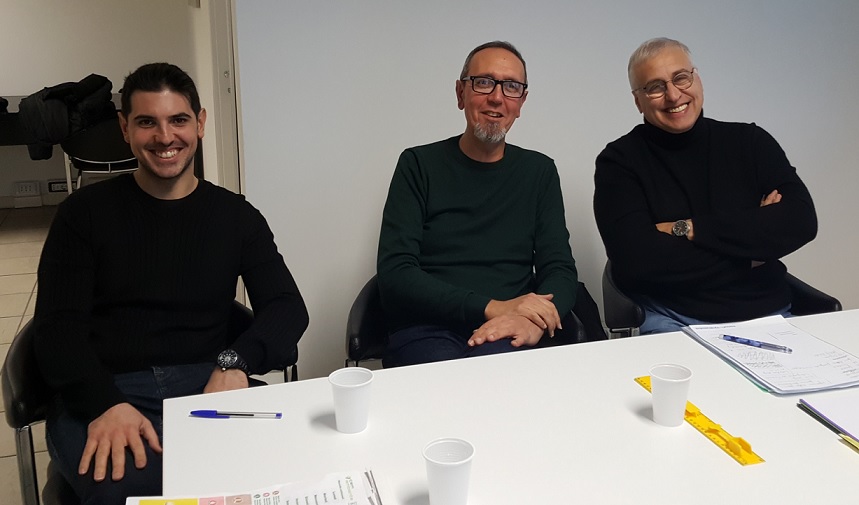 A very productive meeting in the BAM office to work on "La Voce attraverso". The author, Maestro Pietro Bisignani, met the Ceo of BAM, Daniele Maggiore, and the music publisher Michael El Khouri to discuss the last details of the book that BAM will publish in early 2018. The official cover will be revealed in the next weeks.
"La Voce attraverso" is a unique work that examines carefully and from various points of view all that's connected to the song. It is not a work to give answers in assumptive way, but it wants to ask questions and wonder the real purpose of what happens, because of the phenomena related to song with psychological, physiological and chemical references.
The author starts telling about his experiences in the tribal communities of Brazil and Paraguay, then studying all the multiple facets as well as practical singing exercises. "One of the most suggestive experiences was to ask a local tribal leader to sing a lullaby. It was daylight and he didn't want to raise his voice. I understood the real meaning of the rituals in those areas of the planet", Maestro Bisignani said.
Una riunione molto proficua nella sede di BAM per mettere a punto gli ultimi dettagli del libro "La Voce attraverso". L'autore, il Maestro Pietro Bisignani, ha incontrato il Ceo di BAM, Daniele Maggiore, e il music publisher Michael El Khouri per discutere del libro che BAM pubblicherà all'inizio del 2018. La copertina ufficiale verrà svelata nel corso delle prossime settimane.
"La Voce attraverso" è un'opera unica nel suo genere perché esamina con attenzione e da diversi punti di vista tutto ciò che ruota intorno al canto. Non è un'opera che vuole dare risposte in tono autoritario e cattedratico, ma vuole soprattutto porre domande e chiedersi il perché delle cose, il perché dei fenomeni legati al canto con riferimenti di carattere psicologico, fisiologico e chimico.
L'autore racconta le sue esperienze nelle realtà tribali di Brasile e Paraguay passando poi ad esaminare tutte le molteplici sfaccettature fino alle esercitazioni pratiche di canto. "Una delle esperienze più suggestive – ha spiegato Bisignani – è stata quella di chiedere ad un capo tribù del posto di cantare una ninna nanna. Eravamo in pieno giorno e l'uomo non voleva alzare ala voce. In quel momento ho capito che significato hanno quei riti tribali in quell'angolo del pianeta".