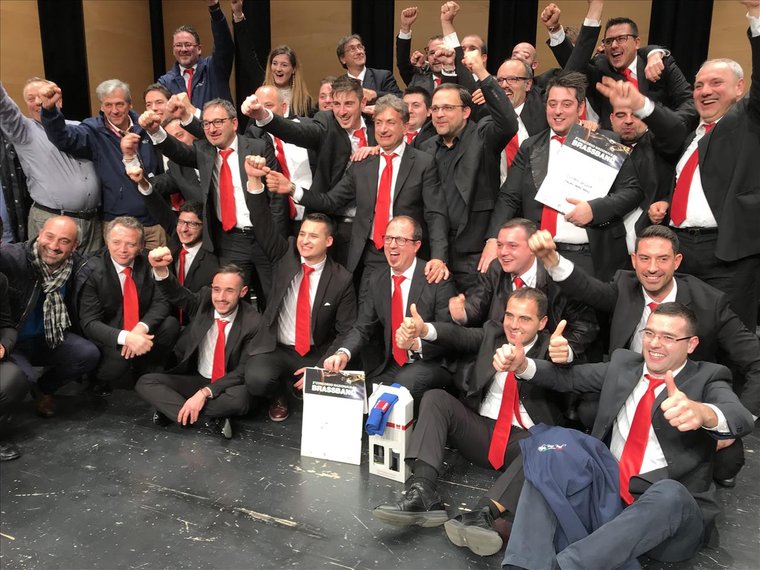 A great success in Appiano (Bolzano) for Italian Brass Band who played "La Battaglia di Legnano" by Giuseppe Verdi during the concert of 2nd edition of Concorso Nazionale per Brass Band. The band, directed by Maestro Filippo Cangiamila, will join the European Brass Band Championship in Utrecht (Netherland) in 2018 and in Montreux (Switzerland) in 2019.
British reporters have also ironized, in a very good way, about the performance of Italian Brass Band: "La Battaglia di Legnano" was as stylish as Andrea Pirlo wearing an Armani suit whilst taking a penalty against poor Joe Hart", with a clear reference to the 2012 European Football Championships match when the great Italian football player, recently retired, scored a crazy penalty against the English goalkeeper.
Un weekend di grandi soddisfazioni per l'Italian Brass Band che ha suonato "La Battaglia di Legnano" di Giuseppe Verdi durante il concerto organizzato nell'ambito della 2a edizione del Concorso Nazionale per Brass Band ad Appiano (Bolzano). La banda diretta dal Maestro Filippo Cangiamila prenderà parte quindi all'European Brass Band Championship del 2018 ad Utrecht (Olanda) e del 2019 a Montreux (Svizzera).
I commentatori britannici hanno anche simpaticamente ironizzato sull'esecuzione del brano da parte dell'Italian Brass Band: "La Battaglia di Legnano" è stato come vedere Andrea Pirlo indossare un vestito di Armani mentre calciava quell'incredibile rigore contro il povero Joe Hart", con un chiaro ed apprezzato riferimento ai campionato europei del 2012 quando il grande calciatore italiano, da poco ritiratosi dalle attività agonistiche, calciò un rigore a cucchiaio contro il portiere inglese nella partita Italia-Inghilterra a Kiev.