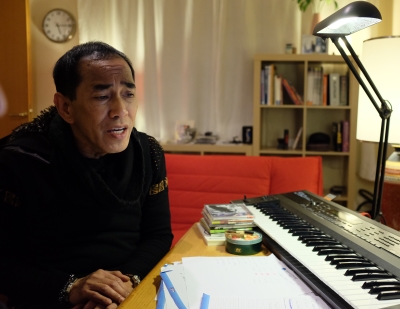 It will be held in Manila the Genfest 2018. From 6 to 8 July thousands of youth from all the countries will be in Philippines to spread the message of a United World. It is an invitation to build bridges of fraternity and contribute to breaking barriers of indifference, prejudice, egoism. Born in 1973 as the brainchild of Chiara Lubich, foundress of the Focolare Movement, the Genfest is going to reach its 11th edition.
Marcelino "Marcy" Bautista is the artistic director. It's a great time for Marcy, former member of Gen Rosso, that has recently published his new CD "I'm coming home", produced by BAM International. He came back to Manila on June after the tour around Italy to start the hard job. "We are working every day to organize this great event. Last week we met many international artists among which scenographers, light designers, production designers", Marcy said.
Elevent more months to organize this great event. So great that it could seem impossibile to work on it. "I thought the same when I realized how many people had to work together. It seemed humanly impossible. However our strenght is our common ideal of a united World. So we are working together, each with its own talent and skills", Marcy said.
Meno di un anno all'appuntamento con il Genfest 2018 che si terrà a Manila dal 6 all'8 luglio. Migliaia di giovani provenienti da tutti i Paesi del mondo si ritroveranno nelle Filippine per diffondere il messaggio di un mondo unito. E' un invito a costruire ponti di fraternità contro tutti i muri e le barriere di indifferenza, pregiudizio ed egoismo. Nato nel 1973 da una intuizione di Chiara Lubich, fondatrice del Movimento dei Focolari, il Genfest sta per giugngere alla sua 11a edizione.
Marcelino "Marcy" Bautista è il direttore artistico della manifestazione. E' un gran momento per l'ex componente del Gen Rosso che ha recentemente pubblicato il suo nuovo CD "I'm coming home", prodotto da BAM International. E' rientrato a Manila a giugno dopo un tour in giro per l'Italia e ha iniziato questa ardua impresa. "Stiamo lavorando tutti i giorni per organizzare questo grande evento – ha spiegato Marcy – La scorsa settimana abbiamo incontrato diversi artisti internazionali tra i quali scenografi, progettisti di luci e altre figure".
Mancano ancora 11 mesi all'appuntamento, un evento così grande che sembra impossibile farcela. "Ho pensato lo stesso quando ho realizzato quanta gente doveva lavorarci insieme – ha aggiunto Marcy – Sembrava umanamente impossibile, tuttavia la nostra forza è l'ideale comune di un mondo unito. E così stiamo lavorando tutti insieme, ognuno con le sue competenze e i suoi talenti".